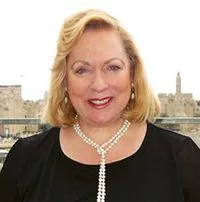 What is the main focus of your activities today?
While we have always enjoyed taking tours, holding Passover and Feast of Tabernacles conferences in Israel (increasingly attended by our Orthodox Jewish friends!), holding international conferences and Bible Congresses, our main activity is media– producing Judeo-Christian TV programs and podcasts for The Jerusalem Channel.
How long have you been doing that?
40+ years
What are some of the successful related programs or projects that you have done this year and in past years?
BDS and anti-semitism education with the Knesset Christian Allies Caucus, various fund-raising projects with Christian Friends of Magen David Adom, co-chairing five Jerusalem Assemblies in the Israeli Knesset, holding a founders conference with Avi Lipkin's Bible Bloc and being a friendship facilitator with the Root Source organization.
How did you get to where you are today?
Because the God of Israel called me to this sacred ministry, He continues to inspire and lead my husband and me with open doors and divine contacts.
What is your "testimony"?
Jesus appeared to me as the King of the Jews when I was an infant and healed me of a dangerous illness, rheumatic fever. He looked semitic with the most compassionate brown eyes like a Sephardic Jew unlike Sunday School art of a "Gentile" Jesus with blue eyes, etc. Consequently, I have loved the Jews from my cradle and because my godly father and mother raised me on the Bible. Therefore I felt Abraham's descendants were my family. When I became a journalist I covered a lot of Jewish activities and the Jewish community adopted me and wrote a poem about my work. When I later became a broadcaster, I experienced an epic dream in which I saw the Shekinah speaking to me on Mt. Zion instructing me that I must stand with the Jewish people when all nations turn against Israel. The Voice said, "Do not harm my servant, for she must stand with the Jewish people when all nations turn against Israel." In the dream I saw the word "hegemony" on a pillar. At the time I did not know the meaning of the word but I discovered that it means a struggle over land and that the Jewish people were being challenged by another spirit that wants to usurp all of the Holy Land. My husband and I were sent by the Christian Broadcasting Network to start their news bureau in Jerusalem during the 1980s and we have had many broadcasting experiences in Israel and in Lebanon with the Voice of Hope and Middle East Television also in the 19980s. Through visions and experiences God also gave me a love for the half brothers, the Arabs, and I have been busy working amongst them as a minister of reconciliation through preaching and Bible teachings explaining God's eternal purposes for Israel, the Church and the nations. The Jerusalem Channel has a worldwide audience and teaches about Israel, the Church and the nations.We also hold many prayer tour conferences in Israel.
What do you think God is doing with regard to Jewish-Christian relations?
This is God's great End-time work, and I am very grateful for the spirit of revelation that grants me vision to participate. The ministry of reconciliation between Jews and Christians is top on God's agenda to bring the Saturday and Sunday people to stand together. We are walking in a way that we have never walked before, and it is a great adventure! As a watchman on the walls of Jerusalem, it is my honour to reciprocate for all the blessings I have received through the Jewish people: the Bible, the Saviour and the ability to engage with the glorious Land itself. After centuries of persecution and distrust, it is a miracle that Jews feel comfortable to forge new relationships with Bible-believing Christians. As we enjoy genuine fellowship, God continually surprises us with revelations that we would not have received if we had stayed apart. We are living in a unique time similar to the early church when Israel and the church existed side-by-side, and lo and behold, it has happened again! I don't know how long these conditions will last before the Rapture and the Lord returns. I believe the church is in the process of handing the baton back to Israel to be the Light to the nations. Israel will become the chief of nations during the Messianic kingdom. It is a privilege and an honour to have been a pioneering bridge builder at this strategic time. All glory to the God of Israel. Many thanks to Gidon Ariel and our brave Jewish bridge builders honoured in this book for reaching out hands of friendship and acknowledging our genuine goodwill.