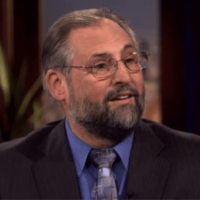 What is the main focus of your activities today?
Building relationships between Jews and Christians based on ahavat chinam.
How long have you been doing that?
20 years
What are some of the successful related programs or projects that you have done this year and in past years?
I have had many orthodox rabbis come and speak to our congregation and have been bringing Christians from all over the world to Israel every year sometimes 300 people from a dozen countries and we visit Hebron, Shiloh, Itamar, Sderot not just the typical sites. We go on army bases and spend a day cleaning and we donate money all the time to Jewish causes be it the IDF or the Jewish National fund and we regularly support several Jewish organizations.
How did you get to where you are today?
By the Grace of God! I was raised as a Catholic knowing I had a long list of relatives who were Jewish on my fathers side and some Biltz's are even listed in Yad Vashem in Israel. In 1994 my wife bought me a book by Rabbi Moshe Braun on 'The Jewish Holy Days and their Significance' which rocked my world. I began to study from a Jewish perspective and decided Christians need to hear this so my wife and I started El Shaddai Ministries 20 years ago with four other people meeting on Shabbat. We started live-streaming the teachings back around 2010 and it took off. Our congregation grew to about 1000 locally every Shabbat and around 250,000 live-streaming from around 400 cities in 30 countries.
What is your "testimony"?
Being raised a Catholic I acknowledged the God of Israel but never really had a relationship with Him as I was totally self absorbed. At 19 yrs old I realized my relationship with God was based on fear of punishment and hope for reward rather than based on love. I left the Catholic Church and went to a Protestant Bible College which specialized in Replacement theology teachings. I ended up teaching in the Bible College and got involved in ministry. I got burnt out and decided to take a year off.Little did I know that it was also a Shemitah year as well. My wife bought me the book I mentioned and it revolutionized my life. The Torah was like a fountain of living water and the Tanakh came alive. I began to connect the dots between verses and learned how to study. I understood there were 70 facets and how understanding the concept of PARDES could help me dig even deeper. The more I knew the more I realized the depth of what I didn't know. Now the Bible is a fun adventure of hide and seek with HaShem and every page is fertile soil to see where He is hiding.As I began to build relationships with the Jewish people and leading tours to Israel of hundreds of people I loved seeing their eyes open up to the reality of it all. When I saw how so many belittled the Torah I made it my goal to take the Scripture in Isaiah where HaShem says "He will magnify the Torah and make it honorable" again that then became my mission as well.
What do you think God is doing with regard to Jewish-Christian relations?
There is always a remnant. I believe that just as Ruth and Orpha were gentiles who were grafted into Israel so they represent a joining of non Jewish believers to the God of Abraham, Isaac and Jacob who also want to align themselves with Israel. Ruth befriended Naomi, worked the harvest and through her commitment to Israel and to the Jewish people from her descended King David. Orpha turned her back on Israel and the Jewish people and went back to her pagan gods and from her descended Goliath. So a battle will come within Christianity causing a division between those who will join Israel and those who will turn their back on Israel. So HaShem is bringing a remnant of Jews and a remnant of Non Jews who desire to join together in bringing the Glory of HaShem down once again by loving and respecting each other despite any theological differences. I believe the goal of the Gentile nations is to help the Jewish people fulfill their mission that HaShem gave them in taking the Torah to the nations as that is the only way for the whole world to truly be blessed. It's also a time of honest reflection between both groups on what is really important in relationships.HaShem is putting all of us through the refiners fire that we all made be fit for the Masters use.