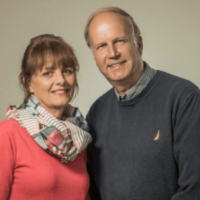 Martin And Nathalie Blackham
What is the main focus of your activities today?
News and Interviews from Israel to educate Christians of what's happening in Israel via TV Programs.
How long have you been doing that?
From 2004 in UK and from 2009 in Israel.
What are some of the successful related programs or projects that you have done this year and in past years?
You can see the different types of programs on: https://www.youtube.com/channel/UCmryOj66jspdCm0BPcIHcig/featured
How did you get to where you are today?
We were in the UK and saw the biased media about Israel, we were involved in media and then saw the need to interview from the land of Israel with the people of the land as they give a direct perspective of what God is doing in Israel.
What is your "testimony"?
The bias in the media against Israel is certainly not a new phenomenon and has been active since the re-foundation of the State in 1948. In 2004 Martin and Nathalie Blackham discovered that they had the opportunity to broadcast a 28 minute program on Satellite TV to primarily a Christian audience via Revelation TV to counter the bias in the media against Israel presenting news and current events from the land and giving Christians an opportunity to understand the Hebraic roots of Christianity. Since 2004, Martin and Nathalie have been broadcasting a weekly program to audiences firstly in the United Kingdom and then across Europe, Australia, New Zealand and Africa. Positive reaction to the program has come from viewers across the world. During one particular program covering the rocket attacks at the Southern Israeli town of Sderot, Martin and Nathalie together with the TV station realised the importance of 'being on the ground' so to speak to cover news and current event. Lesley Conder, co-founder of Revelation TV enthused about a studio in Israel where Martin and Nathalie could cover events on a regular basis for Revelation TV. In 2009 Martin and Nathalie moved to Israel bringing professional TV cameras, monitors, lights and studio equipment setting up a TV studio in Mevasseret Zion near Jerusalem. Being in Israel meant that they were not only able to produce reports on location but access guests who were not available in the UK. Guests have included Members of Knesset (Israeli Parliament), a Former Deputy Foreign Minister, Ambassadors, Deputy Mayor of Jerusalem, Spokespeople from the Israeli Army and Ambulance & Emergency Services, Mobileye, Orcam, The Jewish Agency, Chabad, an eyewitness to the Holocaust in Germany and Ido Netanyahu, the current Prime Ministers brother. As well as covering important Press Conferences Martin and Nathalie have been able to produce reports from various 'hotspots' across Israel including Hebron. In 2016 Martin and Nathalie re-launched their weekly TV Program as the Israel First TV Program across the World via Angel TV into Australia, the Far East, Africa, The UK and Europe, North America. Martin and Nathalie have also been working with various organisations to build bridges between the Christian community and Jewish community including The Centre for Jewish–Christian Understanding and Cooperation, Israel 365, Root Source and Shalom Jerusalem Foundations.
What do you think God is doing with regard to Jewish-Christian relations?
A miracle! Christians have been persecuting Jews for 2000 but there is a turn around with a wave of Christians returning to their Hebraic root of their faith. Discovering that they are attached to the God of Abraham, Isaac and Jacob, and if they are attached to Him they are also attached to His people in Israel. It is a long process as replacement theology has damaged the Christian understanding of the Bible. One of the key is to bring the news from the land of Israel to the many who can't come to visit the land, and make them discovering the land and the people. Another key is the Hebrew language, as you can't read the Bible the same way when you discover that it was written with an hebraic mind. We need our Jewish friends to help us shaking the dust of antisemitism that has been resting in many lyers in the Christian mind.